Cederberg
The Cederberg is a magnificent mountain range 200km North of Cape Town. These rugged mountains, once home to vast forests of Clanwilliam Cedar trees, is a conservation area offering amazing hiking through stunning landscapes, world-class rock climbing locations and camping and swimming in the many rivers with their waterfalls and rock pools.
Learn More
Upcoming Excursions 2023/24
October 20-22, 2023
November 17-19, 2023
January 12-14, 2024
February 2-4, 2024
February 23-25, 2024
March 15-17, 2024
April 5-7, 2024
PRICE: R4997 | $299 p/p
See South Africa's natural wonders, from Wolfberg Cracks to Maltese Cross. Take this journey to breathtaking rock formations and pools in South Africa's Cederberg mountains.
Day 1 – Road trip, swimming, and camping
Drive: 250km | Hike: 2km round walk to the pools & swim
We will cross the Hottentot Holland mountain range that forms a natural barrier around the greater Cape Town. Driving over magnificent mountain passes on small roads, we will stop for a quick swim in the river, and have lunch at a traditional restaurant set at an old road toll collecting post that charged ox wagons a fee for passage through the mountain range.
The menu offers the most truly authentic, traditional South African food. Crossing the mountain range, the scenery changes dramatically and we'll head into the harsh landscapes of the Cedarberg with its dramatic rock formations and rich colours.
We'll make a stop at an oasis for refreshments before proceeding to our camp site. We'll set up camp and make a short hike down the river to an amazing rock pool that offers a safe spot for swimming. We'll make a fire and have a braai (food cooked on an open fire) for dinner and enjoy the atmosphere of the surrounding mountains.
Day 2 – Wolfberg Cracks & Wolfberg Arch and traditional dinner
Distance: 14km hike | Elevation gain: 720m
We'll make a hike to the famous Wolfberg Cracks, and explore these massive and awesome fissures in the mountain. As an option, we can hike to the Wolfberg Arch directly after the Cracks and reach the camp back for dinner. Dinner will be a potjie, which is a traditional meal cooked in a cast iron pot that stands on 3 legs in the fire.
Day 3 – Hike to Disa Pools or Lot's Wife or Wine Tasting. Drive back to Cape Town in the afternoon

Disa Pools: 9km hike | Elevation gain: 200m
A stunning hike to the Disa Pool follows the Kromrivier valley, with admirable mountains rising above it and the river flowing constantly within 20m distance from the path. The walk is rewarded with a swim and optional jump into a beautiful rock pool. Home to the Disas – the largest orchids and floral symbol of the Western Cape.
Lot's Wife: 4km (circular) | Elevation gain: 100m
Optionally, we will take leisure walk called Lot's Wife. Its incredibly scenic views and rock structures are truly breathtaking.
Should you choose even more relaxing day, we can head to the Wine Cellar to taste some of the Cederberg Wines from the Dwarsrivier Wine Farm.
My boyfriend and me went on this trip after we booked a hike with Irmina and Marius and we really didn't know what to expect.
We had an incredible time! Met so many cool people, slept in tents under the clear sky with thousands of stars and had 2 amazing barbecues. The camping place is in the middle of nowhere and really beautiful!
We would have never found this place and hike ourselves! This experience is so unique 😉 so if you like all the fun outdoor things – hiking, climbing, cliff jumping, chilling in rock pools, camping and just being in beautiful nature with amazing people that want you to have the best time – then we would 100% recommend this trip!
It's super personal and a you won't get rushed or anything like it's the case with bigger tour operators.
You won't regret it and never do/ see all of the things that are offered there on your own – Marius and Irmina know what they are talking about 😉 really the opposite of a regular, boring tourist attraction/trip!
We believe in taking the road less travelled.
Our life motto is, "It's better to travel well than to arrive".
Cederberg Hiking & Camping Excursion
Swim, jump into rock pools, hike, climb, scramble, braai, sleep under the stars, camp, stargaze, wine taste, enjoy the company of other adventurers and the remarkable beauty of the Cederberg – Martian landscape!
Friday 9:00 AM - Sunday 8:00 PM
All inclusive Cederberg Adventure.
Highlights: Wolfberg Cracks & Arch, Rock Pools, Night Sky,
Delicious Hearty Meals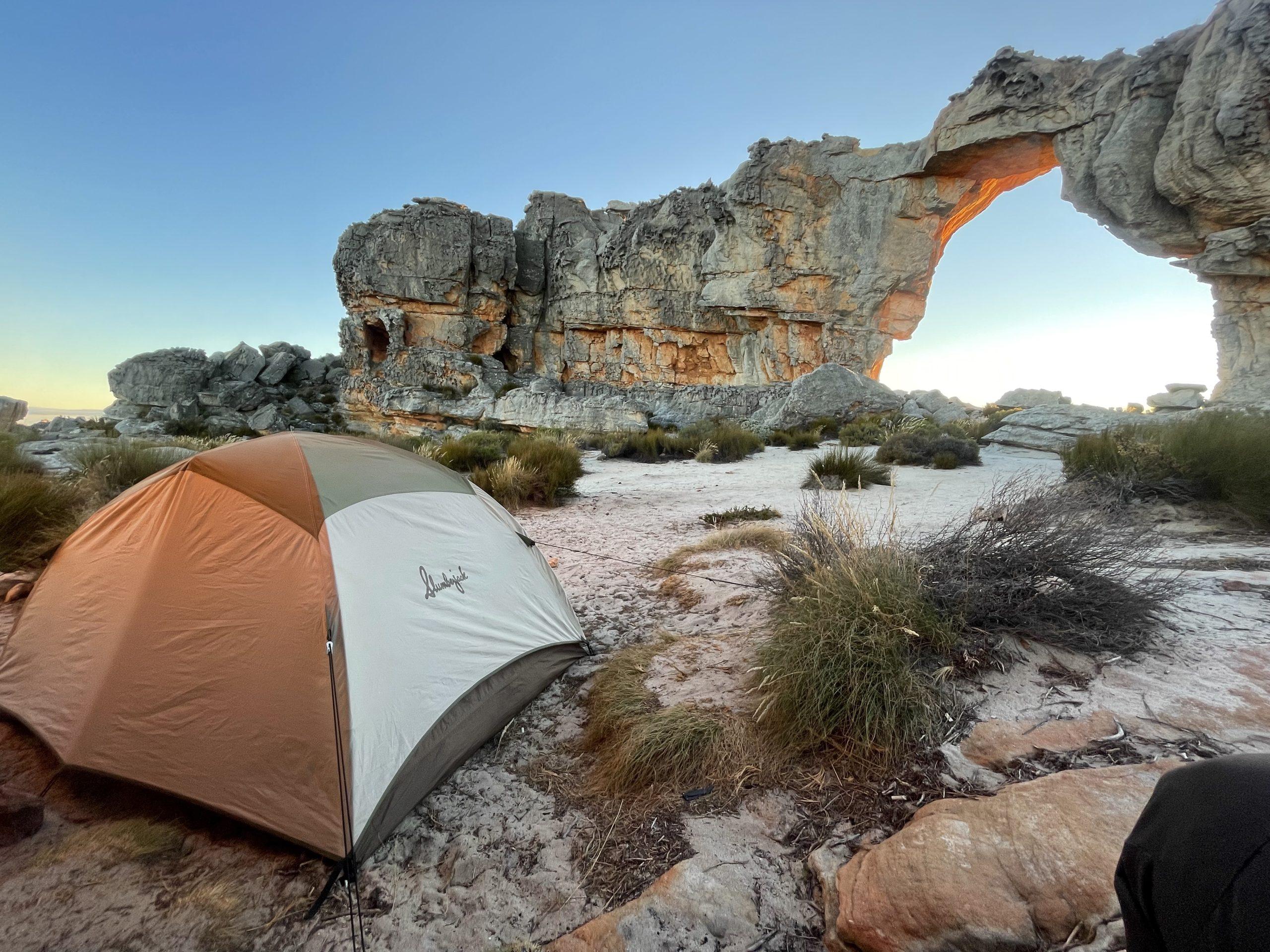 What's Included
Accommodations: 2 nights in a camping tent
Food: 2 breakfasts, 2 dinners, 2 lunches, snacks
Drinks: Water, soft drinks
Tickets: Entrance fees, permits
Transportation: 2 car rides, 4×4
Equipment: camping equipment, safety equipment, outdoor gear
Guided Hikes
PRICE: R4997 | $299 pp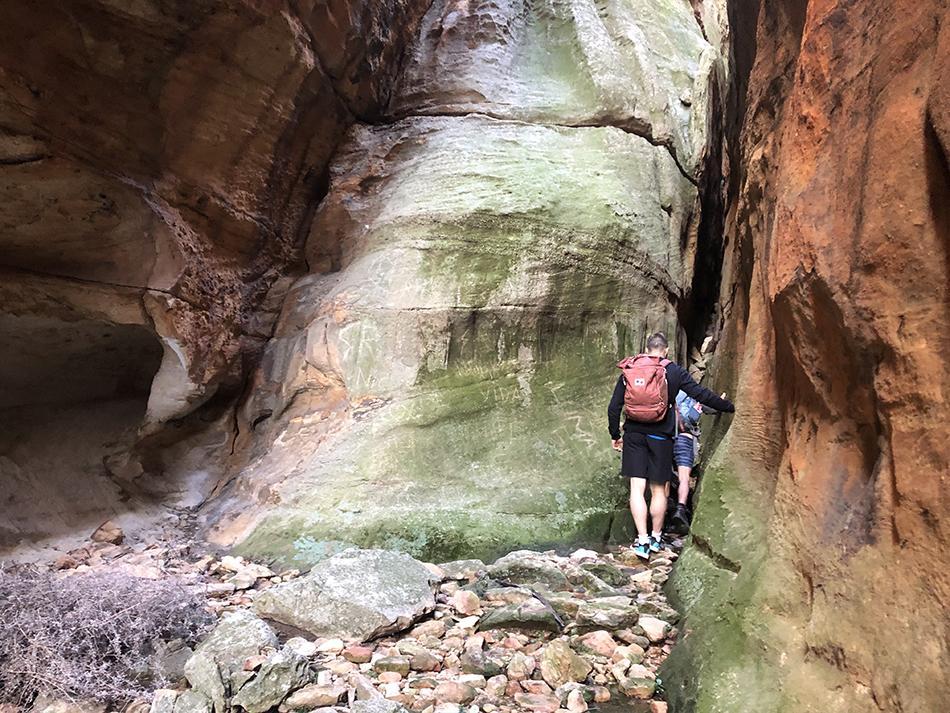 Important things to know
Cederberg Mountains are rather warm and sunny, so we would definitely recommend good sun protection, hat, sunglasses, etc.
For the hikes, it will be essential to have good hiking boots, as there are multiple options to extend each of the hikes to see another sites.
Swimming suit will be perfect for the swim (and optional jump!) in the Maalgat rock pools.
For the evening, some warm layers and head torches – very useful in the tent and to walk around the campsite.
We will take care of the camping gear, breakfast, lunches and dinners. Also got head torches in case you need one.
Cancellation Policy
Once you create an account through our booking system https://wildcornertravel.setmore.com/bookclass we will email you with payment details.
Secure your spot immediately by transferring 50% (R2500).
The R500 is non-refundable, to secure the logistics that need to be booked in advance, and in case of trip cancellation or urgency we will refund you with R2000, if cancellation happens 14 days before the trip.
Overall, 50% of the payment required 30 days before the excursion.
Remaining amount required latest 14 days before the excursion.
Cancellations allowed until 14 days before the excursion.
Potential additional expenses
Your potential additional expenses will be:
– lunch at the restaurant on the way
– alcoholic beverages (we can stop on the way to pick up some wine or anything you'd like)
additional snacks / souvenirs
What to bring
Personal sanitary items (there is hot shower at the facilities)
Towel
Swimming suit
Head torch
Hiking Boots
Warm clothes
Water bottle
Sun protection
Sun Hat
Wind breaker
Soft shell
Rucksack
Camera
Contact Numbers
Irmina: +27 74 115 2166
Marius: +27 79 3443 2917
Wian: +27 84 513 9525
Upcoming Excursions 2023/24
October 20-22, 2023
November 17-19, 2023
January 12-14, 2024
February 2-4, 2024
February 23-25, 2024
March 15-17, 2024
April 5-7, 2024
PRICE: R4997 | $299 p/p
Seats are limited and get booked out fairy quickly. Book your spot now!  ❤
Crafting Unfortgettable moments
See South Africa's natural wonders, from Wolfberg Cracks to Maltese Cross. Take this journey to breathtaking rock formations and pools in South Africa's Cederberg mountains.
Meet your host:
Hi, I'm Irmina
I have a passion for piecing together the most suitable experience for somebody based on their preferences, budget and physical condition. I host "once-in-a-lifetime" Airbnb Experiences in Cape Town. 
Cape Peninsula offers incredible array of experiences, from peaceful walks on magical beaches with wildlife, through smooth sailing, adventure diving or other water sports, to exceptional wine tasting, exquisite fine dining, and much more.
My passion for exploration took me hiking to remarkable cliff lookouts, finding most remote beach and sundowner spots, dramatic sunset watching points, amazing wine & dine experiences, and much more. The choices are endless. Let me know what you love doing, and I will help you plan the ultimate Cape Town Experience.
Wildlife Close Encounters
Get close to wild animals in their natural habitat, while respecting the laws of nature and understanding their behaviour.
Unique locations
Find yourself in the Secret Spots that only passionate insider will know about. We are unexhausted seekers of magic in remote wilderness.
Epic journeys
Unique impossible experiences that "Money cannot buy!" fully guaranteed. We stand by our money back guarantee.
Upcoming Excursions 2023/24
October 20-22, 2023
November 17-19, 2023
January 12-14, 2024
February 2-4, 2024
February 23-25, 2024
March 15-17, 2024
April 5-7, 2024
PRICE: R4997 | $299 p/p
INCREDIBLE WEEKEND!!! Quick synopsis of non-stop (!!!) Cederberg adventure: INSANE rock climbing and hiking and cliff jumping, swimming near waterfalls, wild animal sightings, local food / drinks by the fireplace, wine tastings, star and galaxy de-briefing, floral and fauna, etc. This 3 day trip was incredible and it was the first part of our honeymoon! We didn't know anyone going and we made 10 new friends from Belgium, Slovakia, Switzerland, Germany, South Africa, and France. Seriously, ANY TRIP THAT IRMINA DOES WILL BE 100% WORTH IT!
Incredible amount of knowledge about all things related to adventures around South Africa and beyond, awesome food cooked by Irmina at camp each day and night, care for every single person on the trip, positive attitude and genuinely great value for your time!
NIESAMOWITA WYCIECZKA, idealnie zorganizowana, wspaniała przewodniczka która ma dużą wiedzę i sie stara, nie bedziecie zawiedzeni!
Our Cederberg Adventure was amazing! We were looking for a trip with locals that would take us to places we would not find on our own and that is exactly what we got. This is an adventure off the path to magical places. However, please be aware that it took some hard hiking, sweating and sore muscles to get to those places. But definatly worth it!!!
Everything was very well organized and the communication easy. Most importantly, Irmina and Marius are two wonderful and very fun people. We loved spending time with them! There is no better way to explore the area than with them!
My girlfriend and I had an amazing experience with Irmina and Marius, who not only guided us through wonderful landscapes but also made us laugh and shared amazing food with. Would recommend it to anyone who would like to see more of the beauty South Africa has to offer!
The Cederberg Mountains are so beautiful. If you get the chance go and expierience them with Irmina. The hikes were amazing and the groups dynamic was wonderful.One of the best things I have done during my time in South Africa.
I can highly recommend this trip!!!!!
Amazing hikes, magical places and a unique experience. Irmina and Maruis have a huge knowledge about their flora and fauna. A perfect weekend trip for all nature lovers.
Our trip to South Africa was an unforgettable experience thanks to the adventures organized by Irmina! We have recently hiked with Road Less Traveled in the Cederberg Mountains (sleeping in a tent under the African breathtaking starry sky
), visited the Cape of Good Hope, and experienced the most beautiful sunset at Lion's head – all trips were amazingly organized, leaving room for how we feel and what our needs and skills are! We were all very well taken care of (I travelled with a 6-year old and friends), and felt Irmina's support, experience and courage throughout the way. She is also a wonderful person to be around! Thank you for making our time so special
I recently went on a hike in the Cederberg mountains with my Irmina and it was an incredible experience! She did an amazing job leading us through the scenic trails, showcasing the natural beauty of the area. The mountains were stunning with breathtaking views and unique rock formations. Irmina made sure we were well-prepared and comfortable throughout the hike, always checking in and providing us with water and snacks. The highlight of the hike was definitely reaching the summit and admiring the view. I would highly recommend this hike to anyone looking for a challenging but rewarding experience in nature. Thanks to our friend Irmina for being an excellent guide and making this a memorable trip