Cederberg
The Cederberg is a magnificent mountain range 200km North of Cape Town. These rugged mountains, once home to vast forests of Clanwilliam Cedar trees, is a conservation area offering amazing hiking through stunning landscapes, world-class rock climbing locations and camping and swimming in the many rivers with their waterfalls and rock pools.
Learn More
See South Africa's natural wonders, from Wolfberg Cracks to Maltese Cross. Take this journey to breathtaking rock formations and pools in South Africa's Cederberg mountains.
3 day sample itinerary | Cape Town – Cederberg
We'll take a winding road from Cape Town through the Hottentot Holland mountain range, hike to rock pools, then set up camp and have a braai (dinner cooked over an open fire). The next day, we'll hike to the Wolfberg Cracks, then it's on to Wolfberg Arch before we head back to camp for another traditional South African dinner. On our last day, we'll trek to the famous Maltese Cross and enjoy the otherworldly landscape before heading back to Cape Town.
Day 1 – Road trip, swimming, and camping
We will cross the Hottentot Holland mountain range that forms a natural barrier around the greater Cape Town. Driving over magnificent mountain passes on small roads, we will stop for a quick swim in the river, and have lunch at a traditional restaurant set at an old road toll collecting post that charged ox wagons a fee for passage through the mountain range.
The menu offers the most truly authentic, traditional South African food. Crossing the mountain range, the scenery changes dramatically and we'll head into the harsh landscapes of the Cedarberg with its dramatic rock formations and rich colours.
We'll make a stop at an oasis for refreshments before proceeding to our camp site. We'll set up camp and make a short hike down the river to an amazing rock pool that offers a safe spot for swimming. We'll make a fire and have a braai (food cooked on an open fire) for dinner and enjoy the atmosphere of the surrounding mountains.
Day 2 – Wolfberg Cracks and traditional dinner
We'll make a hike to the famous Wolfberg Cracks, and explore these massive and awesome fissures in the mountain. As an option, we can hike to the Wolfberg Arch directly after the Cracks and reach the camp back for dinner. Dinner will be a potjie, which is a traditional meal cooked in a cast iron pot that stands on 3 legs in the fire.
Day 3 – Hike to Maltese Cross
We will pack up camp in the morning and head to the famous Maltese Cross. We will hike to this significant landmark while enjoying the open, surrounding landscape.
The Maltese Cross stands impressively alone, around 30m high, on a broad plateau at 1424m elevation. The rock type is quartzitic Table Mountain Sandstone – take some time to look closely at the rock lying about and you'll notice the quartz pebbles embedded in the rock. It truly is a sight to behold and deserves a little time spent at the site. Cederberg is home to the endangered Cape Leopard, this unique area offers a landscape that brings peace to one's soul.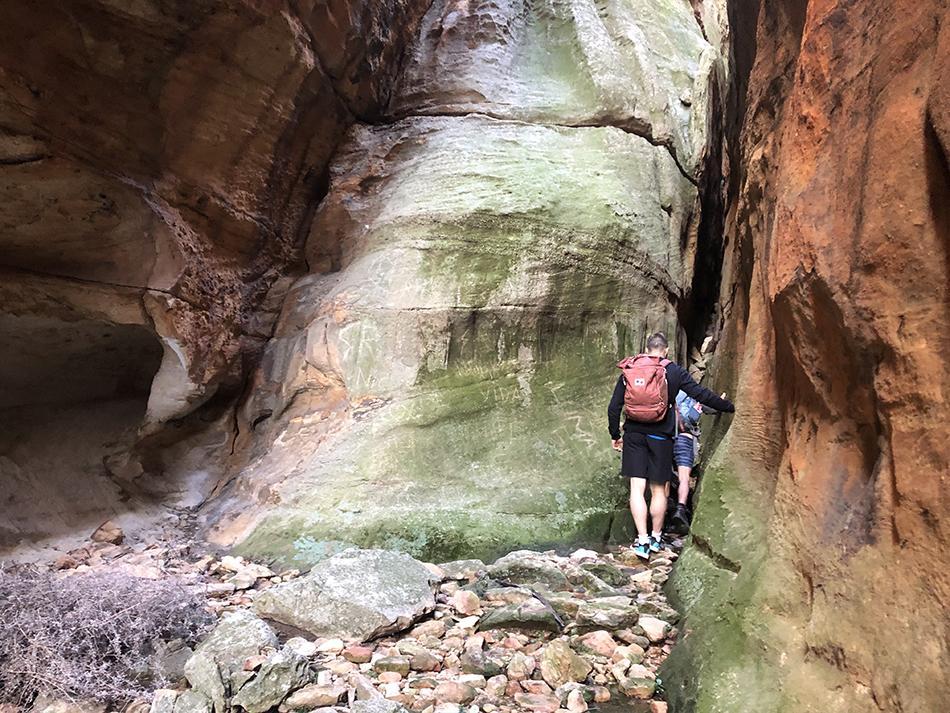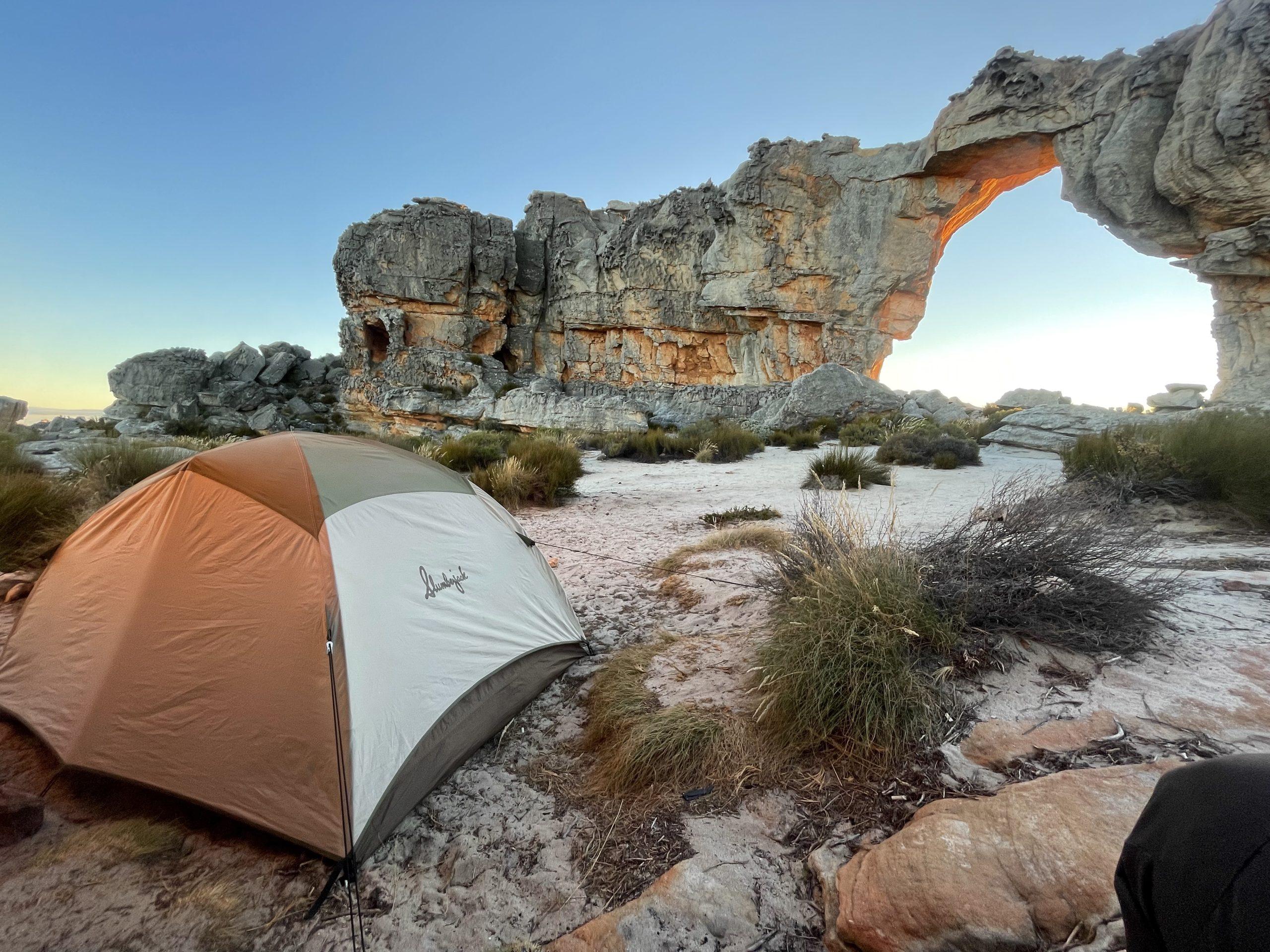 My boyfriend and me went on this trip after we booked a hike with Irmina and Marius and we really didn't know what to expect.
We had an incredible time! Met so many cool people, slept in tents under the clear sky with thousands of stars and had 2 amazing barbecues. The camping place is in the middle of nowhere and really beautiful!
We would have never found this place and hike ourselves! This experience is so unique 😉 so if you like all the fun outdoor things – hiking, climbing, cliff jumping, chilling in rock pools, camping and just being in beautiful nature with amazing people that want you to have the best time – then we would 100% recommend this trip!
It's super personal and a you won't get rushed or anything like it's the case with bigger tour operators.
You won't regret it and never do/ see all of the things that are offered there on your own – Marius and Irmina know what they are talking about 😉 really the opposite of a regular, boring tourist attraction/trip!
We believe in taking the road less travelled.
Our life motto is, "It's better to travel well than to arrive".
What are you waiting for?