Naturing Quest
19-21 JANUARY 2024 | Klein cederberg
Rewild your Body
Awake your Senses
Experience the Elements
Connect with Yourself
BOOK NOW AT R3997 PP
Barefoot Walking | Silence | Journaling | Movement Meditation | Fireside | Sound Journey | Nature Quest | Live Performance | Body Immersion
Friday – we arrive from 9:30am at Klein Cederberg. After nurturing lunch at 12:30pm we will meet each other and the land and voice our intentions for the weekend together. Later, there's a live performance of humanimal, the animal in us and we get to meet our bodies deeply in meditative movement.
Saturday – in the morning, we continue our journey into ourselves and our bodies with journaling and gentle movement. In the afternoon, we will be in silence as we venture out into the wild for our solo-nature-quest. We end the day with a sound journey and time by the fire.
Sunday – after meeting even more of our inner worlds and the nature around, we get to play with clay, finding our individual integration of the weekend-experience as we form a piece of the earth into a piece of personal expression.
19-21 January, 2024 | All inclusive Cederberg Naturing Quest
Highlights: Live Performances, Rewilding Experiences, Unspoiled Landscapes, Night Sky, Delicious Healthy Meals
Rates
Book before 7 January 2024 at R3997 |$249 p/p
Book after 8 January 2024 at R4997 | $299 p/p
Cancellation Policy
Full Payment required latest 7 days before the experience.
Cancellations allowed until 7 days before the experience.
What's Included
Accommodations: 2 nights in rustic stone cottages
Food: 2 breakfasts, 2 dinners, 2 lunches, snacks
Drinks: water, soft drinks
4×4 sunset drive
Safety equipment, outdoor gear, yoga mat, journal and pen
Guided experiences
Live performance
Guests Requirements
Being able to move and walk, moderate fitness. OK to be exposed to the elements and their moods.
Important things to know
Cederberg Mountains are rather warm and sunny, so we would definitely recommend good sun protection, hat, sunglasses, etc.
Swimming suit will be perfect for the swim in the pool. 
For the evening, some warm layers and head torches – very useful to walk around the premises. The venue is completely off-the-grid, equipped only in oil lamps and candles by night. 
This is an alcohol and drug-free experience and we ask you to leave those behind. 
What to bring
Curiosity to experience something different. The openness to connect. The courage to just be.
Personal sanitary items (there is hot shower at the facilities)
Swimming suit
Head torch
Wind-breaker
Sun Hat, Sunblock
Long-sleeved top
Water bottle
Optional:
Journal and pen
Yoga Mat
Contact Numbers
Irmina: +27 74 115 2166
Hanna: +27 78 514 4374
KLEIN CEDERBERG
NATURE RESERVE
Art-filled hideaway | completely off-the-grid |16,000 privately owned hectares of untouched wilderness | nourishing vegetarian food | 4×4 sunset drive | quaint stone cottages |  experienced nature guides | live performances
Friday 12:00 PM - Sunday 15:00 PM
Klein Cederberg Private Nature Reserve
Meet our Experienced Nature Guides whose mission is to help you remember more of your true nature as you come home to your body, your true being and your heart.
Hanna
Deeply in love with the earth and the outdoors, Hanna has facilitated movement-yoga, meditation and embodiment for groups and individuals for over ten years. She believes that deep and meaningful connection – to self, body and heart, to others and to nature – is the medicine the world needs today. She is a nature-lover, writer, musician, dancer and embodiment facilitator and creates powerful offerings for people, igniting deep presence and connection, inner peace and lasting transformation.
Irmina
A super passionate outdoor adventurer and mountain lover, Irmina has been guiding people on unforgettable nature journeys and unique travel destinations for over twelve years. She has a talent for creating experiences that money can't buy: these wordless moments of awe, connection and heartfelt bliss. Irmina encourages people to go beyond their perceived limits while her joyful and genuinely loving presence makes clients feel safe and inspired alike.
Pieter
The wide open spaces of unspoilt nature are where Pieter feels at home. He has dedicated his life to re-wilding environments that have suffered from human influence or misuse. While Pieter embodies deep love and respect for nature, he is also a people person and has a true gift to make everyone feel special and cared for. He is the heart-centered guardian of the Klein Cederberg Nature reserve and has much knowledge of the animals, flora and fauna inhabiting the mountains.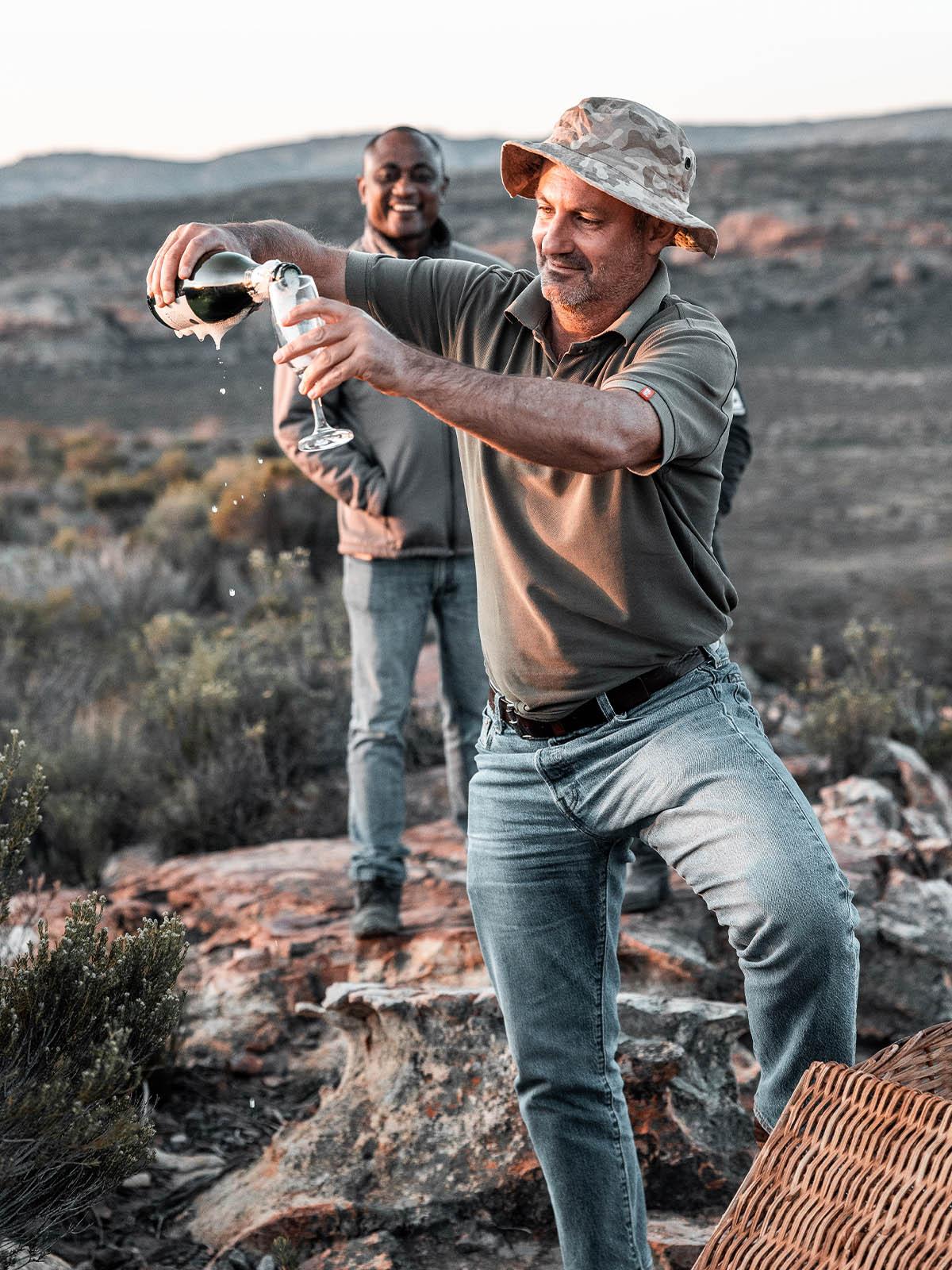 "Disconnected to reconnect"
"The best way I can summize my experience of the retreat is that I was disconnected to reconnect. Enjoying and exploring life within nature is truly enriching. The facilities are cozy and superb. I highly recommend to anyone enticed to find balance (and fun!) with their mind, body and soul."
– Wian Crous
"Appreciate the beauty and peace of nature"
"This retreat felt like a positive break to appreciate the beauty and peace of nature while connecting with yourself and others. The place where we are hosted has such a special vibe and a real charm. I specifically loved the nightsky, the raw nature surrounding us, sharing great meals with the group and the yoga practice by the pool in the morning!"
– Isabelle Sanfilippo
"A hidden gem off the grid"
"A hidden gem off the grid, Klein Cederberg was truly an experience, it was a way to connect with myself, with nature, unwind and switch off from normal busy life. So much beauty to experience, its endless, hearing the wind in the trees, the quietness, crisp air, I could go on and on.
In a nutshell it's a necessary retreat, self care, to connect with yourself. I've taken away so much from this weekend. A huge thank you to Irmina, Pieter and Hanna for hosting an amazing, unforgettable weekend. I left feeling energised, relaxed and happy."
– Leonie Wyngaard
"Re-energize your soul"
"What an amazing place and experience. The views are fantastic. The wind rustling through the trees is so soothing. A perfect place to re-connect with nature and re-energize the soul."
– Lloyd Zari